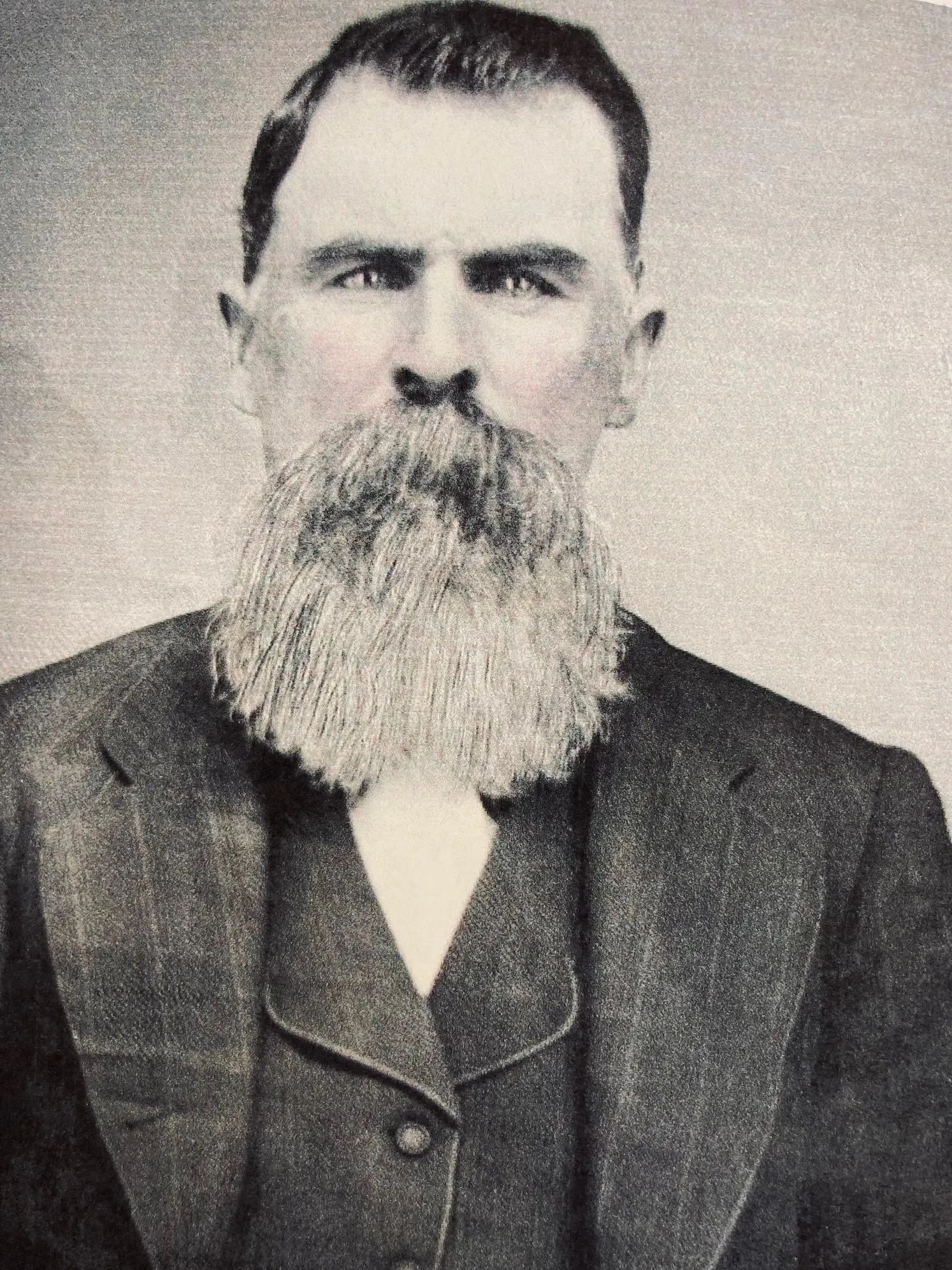 2008 MONTANA COWBOY HALL OF FAME INDUCTEE
1860 – 1920 LEGACY AWARD DISTRICT 7
William Franklin McLeod (1833-1914)
When Bill McLeod arrived in the Boulder River country south of what is now Big Timber, Montana in 1881, it was still part of the Crow Indian reservation. McLeod was born in Palmyra, Missouri in 1833. At age 20, he crossed the plains to California, where he stayed for about 20 years. There he was a miner, freighter, dairyman, and rancher. Living near Grass Valley, California, he met and married Martha Sowell in 1865. They had two daughters, both born in California. In 1873, McLeod moved to what is now Burns, Oregon. Driving horses and cattle, the trip took five months.
In 1881, McLeod drove 200 head of "good Oregon horses" and 125 head of cattle to the Boulder Valley. He obtained permission from Major Armstrong, the Indian agent, to graze his cattle and horses on the Crow reservation. Bozeman was the closest town. Livingston, barely a village, was still known as Clark's Crossing.
He built a log cabin on the west side of the Boulder River, a couple miles north of a natural bridge. In July of 1882, the western boundary of the Crow reservation was reconfigured. This made it possible for McLeod to claim the land he had occupied, and according to Pioneer Memories he is regarded as the first white settler in the area.
Interestingly enough, when McLeod moved to Montana from Oregon, his wife stayed behind. Whether in 1881, or later, both daughters moved to the Montana ranch. Martha, the younger of the daughters, would have been only eight in 1881, so it's likely that the girls came later.
In addition to ranching, McLeod operated a ferry near modern-day Big Timber and contracted work cutting ties for the railroad. The original McLeod post office may have been located in his home before it was moved to its present location near where the West Boulder runs into the Main Boulder. Both the hamlet of McLeod, Montana, and McLeod Street in Big Timber, were named for him.
According to historical records, "McLeod was a familiar figure for many years to residents of the valley, mounted on a sturdy horse, going here and there with his men, looking after his stock interests."
In 1894, older daughter Margaret and her husband Charles Bryan moved to the McLeod ranch.
William McLeod died in November 1914, at the age of 81 from pneumonia. According to McLeod's obituary, "In 1910, McLeod was compelled by failing eyesight to give up active business, a blow to a man of his energy and desire from which he never recovered."
The Bryans continued to operate the ranch for some years, then sold to Jack Clark and moved to Big Timber. One of Clark's grandsons claims that Bryan actually lost the ranch in a poker game with Clark.