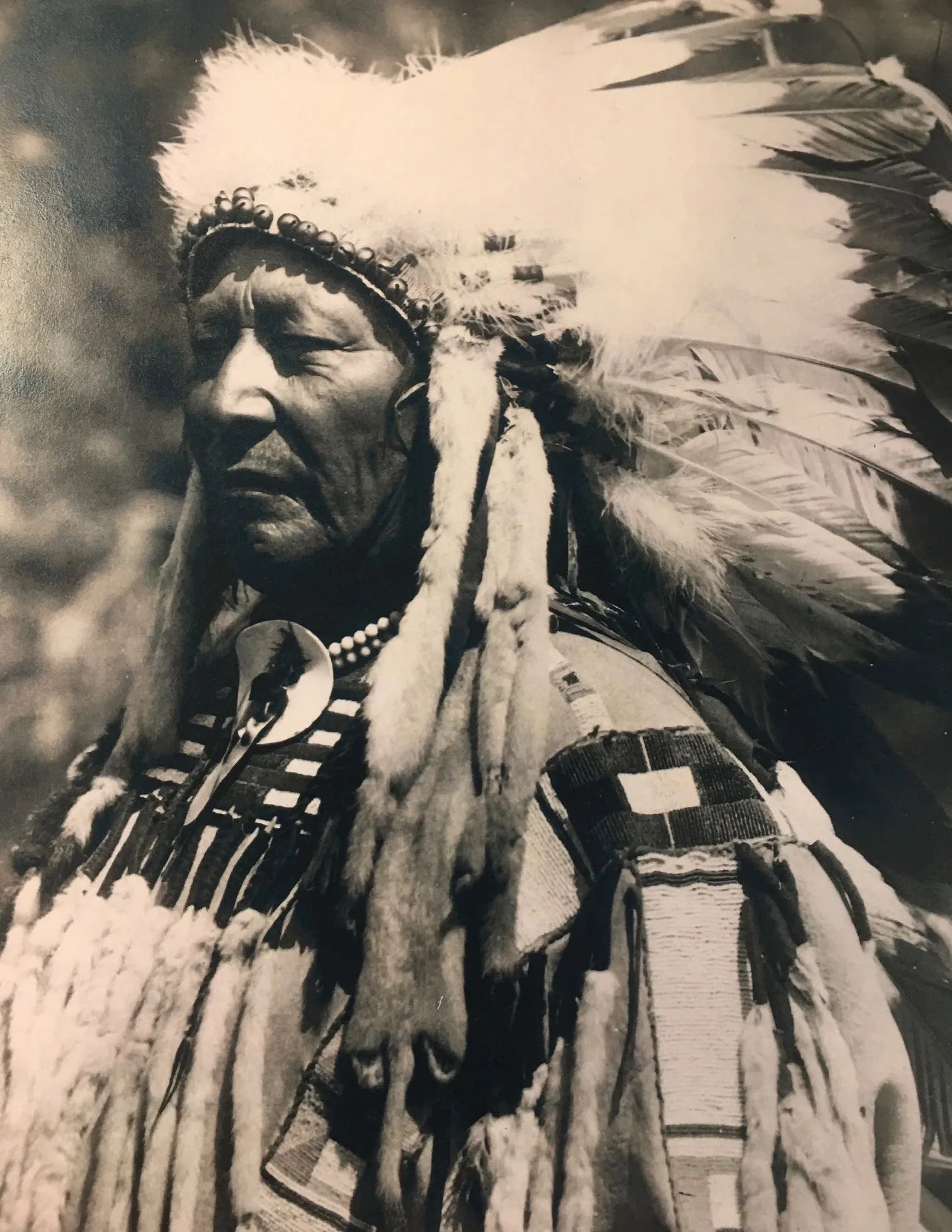 2008 MONTANA COWBOY HALL OF FAME INDUCTEE
1860 – 1920 LEGACY AWARD DISTRICT 7
Chief Plenty Coups - Chíilaphuchissaaleesh (Buffalo Bull Facing The Wind) (1848-1932)
Plenty Coups was born in 1848 near what is now Billings, Montana. When he was 11 years old, he journeyed into the Crazy Mountains on a vision quest. Three years later, on a second quest, he had a complicated dream in which the buffalo vanished and the spotted-buffalo (cattle) came out of a hole in the ground and covered the plains. He saw himself as an old man sitting in the shade of a tree. "This tree," he told Frank Linderman many years later as he sat in the shade of a tree during an interview at his home near the Pryor Mountains. During that quest, Plenty Coups also saw a dark forest and the Four Winds gathering in a mighty storm. After the storm only one tree was left standing, and in it was the nest of a chickadee. His dream guide told him to develop his body but also his mind, because it is the mind that leads a man to power, not strength.
After this vision, Plenty Coups returned home and recounted the dream to his Crow elders. When Plenty Coups finished his story, Yellow Bear, the wisest man in the lodge, said that the youngster had dreamed a great dream. "Plenty Coups has been told that in his lifetime the buffalo will go away forever… the dream means that white man will take and hold this country and their spotted-buffalo will cover the plains," Yellow Bear said, given voice by Linderman. "The meaning of his dream is plain to me. I see its warning. The tribes who have fought the white man have all been beaten, wiped out. By listening as the Chickadee listens, we may escape this and keep our lands."
Plenty Coups' dream and Yellow Bear's interpretation would set the future course of the Crow tribe as the Indian wars raged in the West.
Plenty Coups became a distinguished warrior in the Crow's battles against their traditional enemies, the Sioux, Cheyenne, Arapaho, Blackfoot and Flathead tribes. In 1876, at age 28, he became chief of the Mountain Crows. He helped find Crow scouts for Generals Gibbon, Crook and Custer, and for the U.S. Army, during the Nez Perce war. He quieted a threatened uprising among the Crow in 1887.
As Linderman wrote, "... it was Plenty Coups who saw quite clearly that a readjustment of his people to meet the changing conditions was necessary. Gifted with the power of impressive speech and possessing a dignity of presence that readily won him any hearing, he more than once visited the Indian Department at Washington DC in the interest of his people – who were quick to recognize him as the outstanding Crow of his time. Giving advice to his people, he took care to follow it himself; he began early to cultivate the land, he established himself in a log house, and he even opened a general merchandise store where his tribesmen might trade."
Chief Plenty Coups was selected as sole representative of Native Americans for the dedication of the Tomb of the Unknown Soldier after World War I. He gave a short speech in his native tongue in honor of the soldier and the occasion. He placed his war bonnet and coup stick upon the tomb, which are preserved in a display case there.
One of his many famous quotes follows: "Education is your greatest weapon. With education you are the white man's equal, without education you are his victim and so shall remain all of your lives. Study, learn, help one another always. Remember there is only poverty and misery in idleness and dreams – but in work there is self-respect and independence."
Plenty Coups' strategy of working with the whites appears to have paid off. The Crows were not moved off their traditional lands when reservation lines were drawn.
Before he died in 1932, Plenty Coups dedicated 40 acres of his ranch "to be used in perpetuity for the Crow people and used as a public park by them and others irrespective of race and color." This land has since become Plenty Coups State Park near Pryor.