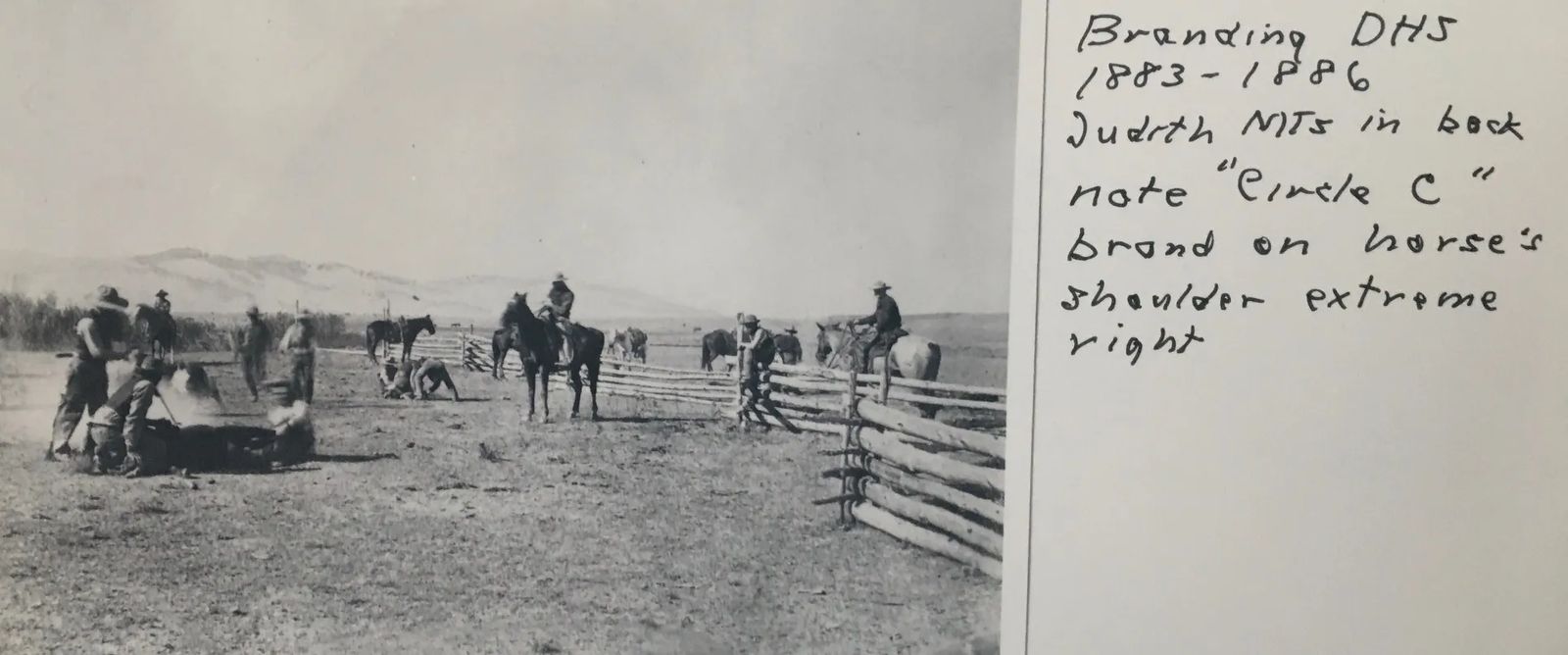 2008 MONTANA COWBOY HALL OF FAME INDUCTEE
1860 – 1920 LEGACY AWARD DISTRICT 6
DHS Ranch (1880 – 1888)
The DHS Ranch was established at the head of Fords Creek on the east side of the Judith Mountains in what is now Fergus County, Montana, in 1880. The brand's origin was derived from the three owners' names: A.J. Davis, Samuel Hauser, and Granville Stuart.
The DHS claimed the area west to the Judith Mountains, north to Box Elder Creek, south to Flatwillow Creek, and fifty miles east to the confluence of Flatwillow and Box Elder Creeks. Some 25,000 head of cattle wore the DHS brand at one time. Since the prairie was open range, the only way one could hold the land was to occupy it, and that was done quite effectively in this case.
By 1881, surrounding ranges were taken up by notable ranchers such as James Fergus, Conrad Kohrs, John Bielenberg, Power Bros., Robert Coburn, and Henry Sieben. It was decided on by the different outfits to "pool" their efforts; hence, the initiation of the roundup. All these outfits gathered for a meeting - held at the DHS Ranch on May 29, 1882, for the purpose of organizing the first roundup. Details were decided on for the benefit of everyone. Each stockowner would furnish one rider for every 1,000 head. One man was elected captain of the roundup, and a group was established to inspect bulls and decide which bulls were too old to be of service, with the owner replacing the old bull with a bull calf. It was also decided when and where the spring roundup would begin, in May, as well as the fall calf roundup, which would immediately follow the annual beef roundup.
In 1883, Conrad Kohrs bought out the Davis-Hauser interest in the DHS, thereby becoming a partner with Granville Stuart.
By 1884, the railroads were nearing Eastern Montana, causing the steamboats coming up the Missouri River to lose revenue. This in turn caused the local woodcutters known as woodhawks to lose income since they were cutting firewood and selling it to steamboat operators. Because there was little or no law in existence, the woodhawks turned to rustling cattle and horses. On July 20, 1884, after much secret planning, the Stuart Stranglers, a group of ten riders from the DHS and four from the Fergus ranch, led by Granville Stuart, rode to the Missouri River Breaks to deal with woodhawks. Upon approaching the horse thief camp, the cowboys deployed in such a manner as to wreak havoc on the rustlers, some fourteen in number, in a short and violet exchange of gunfire. Three or four of the thieves escaped downriver but were caught and dealt with later. Thereafter, rustling became very unpopular in that area.
By the winter of 1886-87, due to low cattle prices and severe drought followed by a terrible winter, the DHS herds were decimated. By 1888, the ranch ceased to operate. To this day, historians regard the DHS as one of the largest and finest ranches to operate during the 1880s.