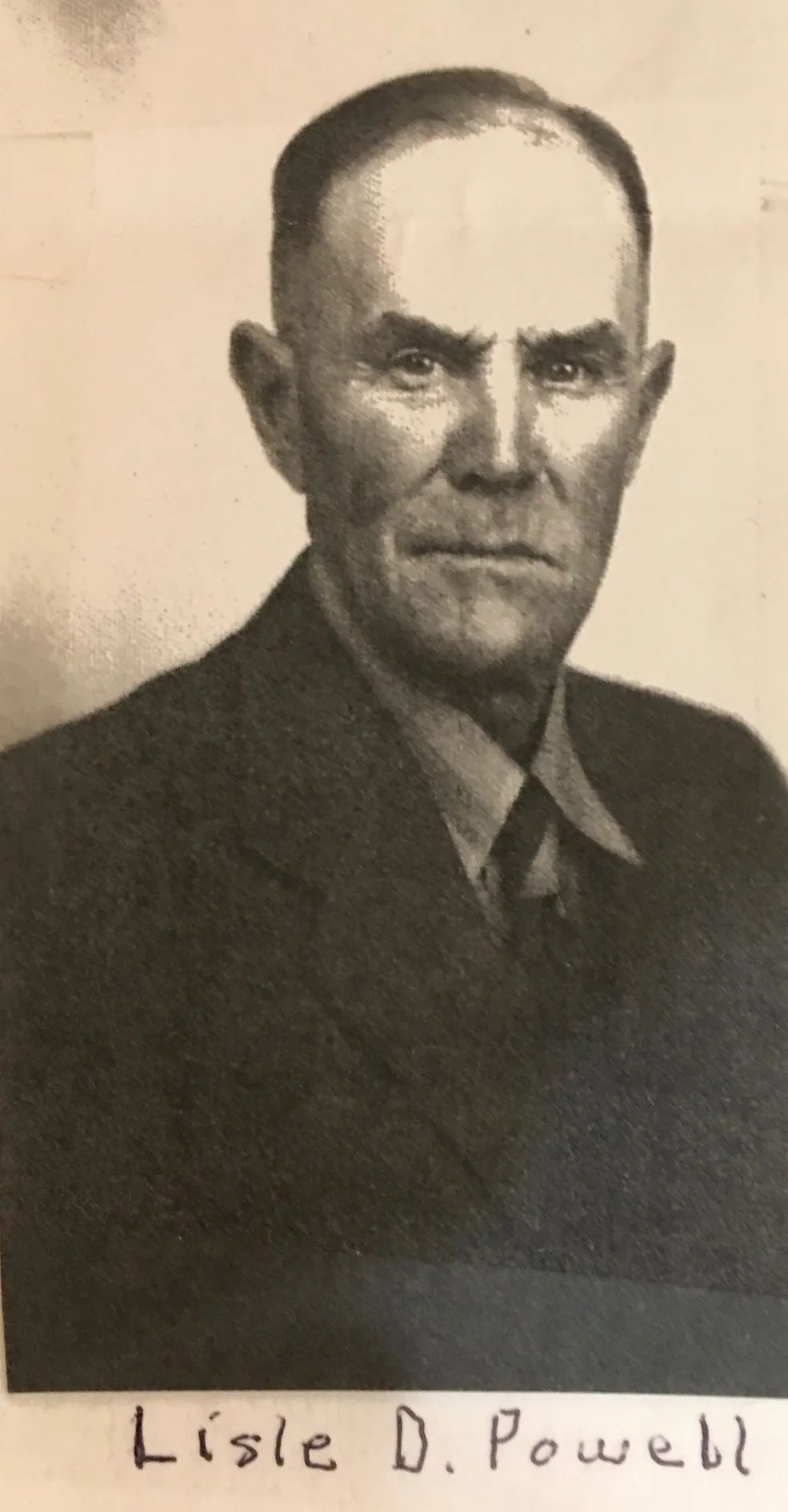 2008 MONTANA COWBOY HALL OF FAME INDUCTEE
1860 – 1920 LEGACY AWARD DISTRICT 3
Lisle D. Powell (1885-1959)
Lisle D. Powell was born July 14, 1885, in Blue Earth, Minnesota, to Erasmus & Lulu Powell. He came with his parents and brother, Vernon, to Hulett, Wyoming, as a small child. Two sisters were later born into this family. The children attended school in Hulett.
Lisle's father established a small ranch and operated a blacksmith shop and a sawmill. Lisle was associated with his father and brother in lumbering and carpentry work and later went into farming operations on his own. The Powells built a small Baptist Church in Hulett that is still in use today.
Lisle served as Deputy Sheriff of Crook County, Wyoming, for one year. He worked for one year as a cowboy for Harv Swarz of the TJ outfit, owned by an Englishman named Hamilton. During the Boer War (1899-1902), Lisle and brother Vernon took a contract to break 75 horses for $5 per head delivered into Canada. One summer Lisle took a job driving visitors around Yellowstone Park in a stagecoach for the YP Company.
Lisle took up a homestead in 1912, on Ranch Creek, seven miles east of Biddle, Montana, and about 100 miles south of Miles City. Lisle's brother and father homesteaded on adjoining land, to provide a broader base for livestock. The three men built log homes, large barns, and drilled artesian wells on their property. Lyle and Vernon had a steam threshing machine and threshed for all the neighbors near and far, while Erasmus raised bees and sold honey.
Lisle married Anna Anderson of Hulett on September 2, 1914, in Belle Fourche, South Dakota. Anna had training and experience as a teacher and taught numerous neighborhood children in the vicinity of their homestead, including those of Lisle's brother, Vernon. When Vernon's children reached high school age, Vernon sold his place to Lisle and moved with his family to Broadus.
Lisle and Anna's first baby died at birth, so when the second baby was on the way, the expectant parents went to Miles City by way of horse-drawn wagon. Anna was deposited at Darcy Hospital in Miles City to await the baby's arrival. Lisle returned home to take care of his livestock. After he received word that baby and mother were ready to travel, he again drove the 100 plus miles to bring them home.
In those days serious illness and accidents demanding professional medical attention in remote areas sometimes required extreme measures. An illustration of this happened when the wife of one of Lisle's neighbors became desperately ill. Her husband appealed to Lisle for help to get her to the doctor at Broadus. Lisle offered his wagon and team to take the lady to a crossing of the Little Powder River. The lady traveled on a bedspring with lots of quilts placed in a wagon box.
It was spring break-up time. The roads were partly frozen and extremely slippery, causing the horses to tire often. There were no bridges at that time. When they got to the crossing, the river was high with ice floating. There was only a cable to pull a person across the river. Lisle pulled himself across the river and walked to the nearest house to ask for use of a team and wagon to take the sick lady to the doctor. Of course the rancher agreed.
Lisle and the lady's husband designed a way to fasten her and the frame to the cable to get her across. The husband declined to accompany his wife across the river, so Lisle went instead. From there, a borrowed wagon and team took her as many miles as the horses could stand, then the driver would arrange to borrow another team for the next segment of the trip. So, the lady was eventually treated by the Broadus doctor. All turned out well and the Powell children remember later going to high school with some of the lady's children.
Lisle raised registered purebred Hereford cattle, as well as hay and grain to feed the stock. When shipping time came, neighbors joined together to trail the cattle to Moorcroft, Wyoming, to put them on the railroad.
Lisle had served as Justice of the Peace, as well as four terms as County Commissioner, and was in his third term as representative to the Montana Legislature from Powder River County at the time of his death, July 21, 1959. He and three others died in the crash of a small plane on their return to Biddle, Montana, after appealing to the State Highway Commission for improvement of roads in Powder River County. Lisle was 74 years old, and was buried in Valley View Cemetery in Broadus.