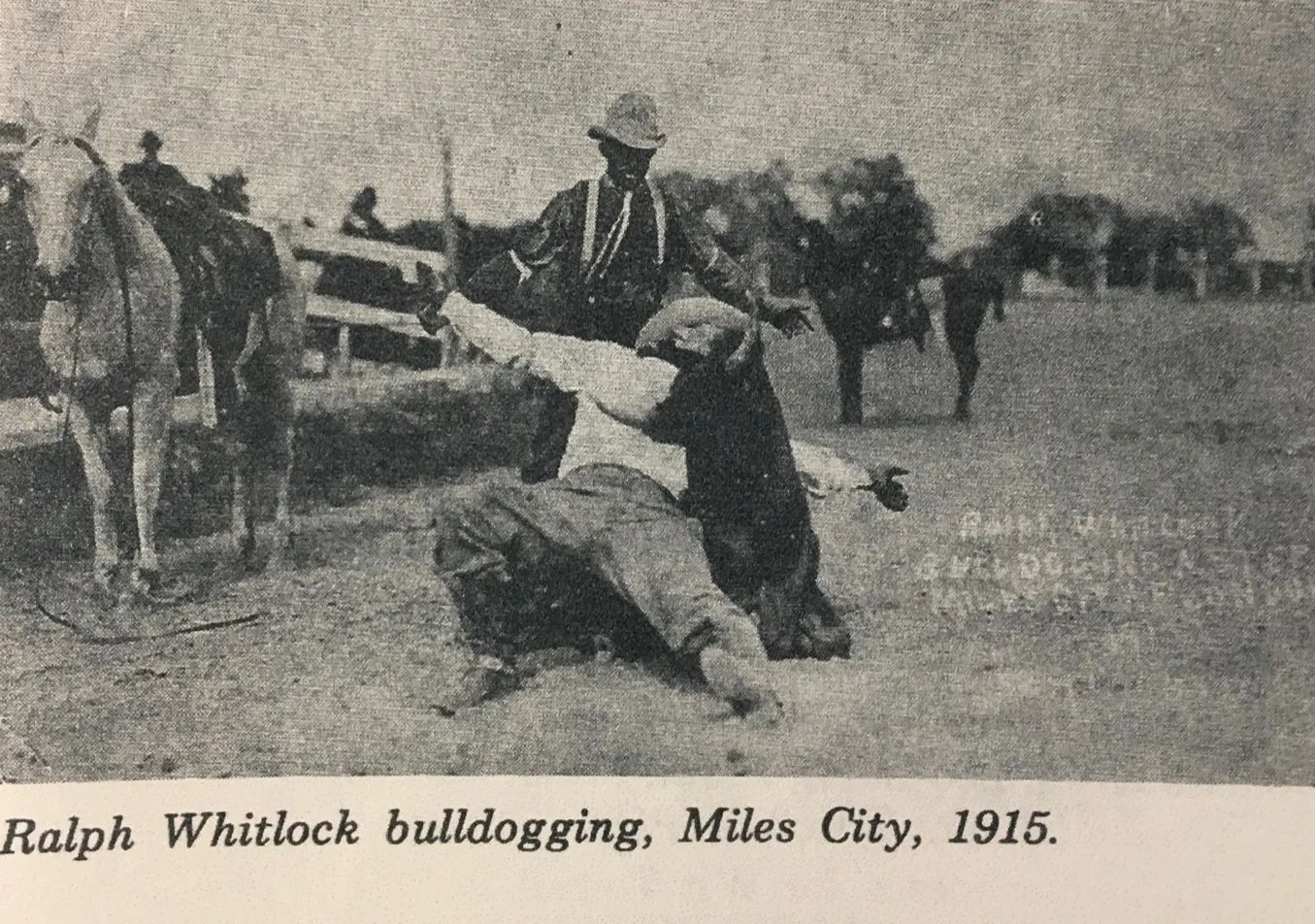 2008 MONTANA COWBOY HALL OF FAME INDUCTEE
1860 – 1920 LEGACY AWARD DISTRICT 2
Ralph R. Whitlock (1884-1980)
Ralph was born July 28, 1884, in Mt. Etna, Adams County, Iowa, the first son of Hiram and Nelle Causey Whitlock. His father died from a fever when Ralph was three years of age. A brother, Vivian Hiram, was born in May of the same year, 1887. That winter Nelle moved them to Midland, Texas, to live with her brother Thomas Causey, a former buffalo hunter. They all moved again and she remarried to Wm. Sherman Palmer. Together they had three girls and a son.
At 14 years of age Ralph went on his own, working as a thresher hand for $1.25 a day and a dishwasher at $3 a week. He got some more schooling and helped his uncle Tom with well drilling and later helped break horses for the Causey Brothers. After his uncle George Causey was hurt in an accident with a horse, Ralph, at age 17, went back to school and played center on the football team.
He eventually got a job on the Littlefield & White Ranch, which branded 9,000 calves a year and had some 400 head of horses to work. This place was also called the Yellowhouse Outfit and had purchased the southernmost division of the XIT. Ralph worked for the brand until 1909.
In the spring of 1907, the XIT sent a trainload of cattle to Glendive, Montana and Ralph was asked to go along. Bob Fudge ran the wagon, and the cattle were to go to the Red Water. Ralph took the job of taking 400 head of Percheron horses to nearby Medora, North Dakota. It took five days to trail them, and wolves scattered them once.
Ralph went back to Texas for a while before finally coming to Montana to stay, again to help break workhorses, this time for the railroad builders. He worked there four years and filed on a homestead near Wibaux but later sold this. In 1912, he worked for Stocksill and Scheurtt who belonged to the Cedar Creek Pool. They had a place leased on Sugin Creek southeast of Fallon. The pool ranged from Mildred to Baker to Wibaux to the Norther Pacific Railroad, and they shipped from the NP in Iona and the from Milwaukee in Mildred. Ralph work on the crew in 1912 and 1913. Tom Conner, Bob Lowery, and Ralph were the wagon bosses up to 1914.
Ralph broke horses for Wit Terrell in North Dakota, and then he went to work for horse buyer Ralph Gilmore and his partner Art North. Ralph would halter break the tough ones. They were buying for the French Army and held sales in Miles City once a month.
In the fall Ralph went to work for Jena Miller, who ran the Art Parsons horse ranch, which was the former Hat X above the mouth of Timber Creek in McCone County. He built a homestead shack and fenced a section, cultivating 40 acres with millet, flax, and corn. He also worked for the 44 Ranch as foreman.
Ralph started seeing Nelle Browning, who lived nearby, but she was engaged to another, so he started seeing her sister, Lillie. They were married October 15, 1920, in Miles City. They lived at the 44 Ranch or Ralph's homestead as he continued to work for the 44 for the next year or so. For the next several years, he helped his brother-in-law Tom Browning with his sheep, tend to his own cows and crops, break horses, and trap. His catch included skunk, badger, bobcats, coyotes, and wolves. It is thought that he trapped the last lobo in the country.
Three children were born to Ralph and Lillie: Ina Ruth in August of 1921, Hi in May of 1926, and Dann in September of 1929.
In 1935, drought finally took its toll and the Whitlocks moved. Ralph was night man at the BLS stockyards in Billings until the summer of 1936. In 1941 the family moved to Boulder, where they worked for CC Fields from Canada. The summer of 1949, they bought a small place nine miles northwest of Ronan, Montana. They were semi-retired, had some milk cows, a few head of sheep, 20 acres of irrigated alfalfa, and a large orchard and garden.
In 1960, Ralph and Lillie moved to the Sidney area to be closer to their oldest son, and they later bought a little log house in Savage, Montana. They moved to Billings in 1973 to be near their younger son.
Ralph died December 31, 1980, in Billings at the age of 96. He was cremated and his ashes scattered on the Benny Binion Ranch north of Jordan, Montana, along with those of his son Hi.