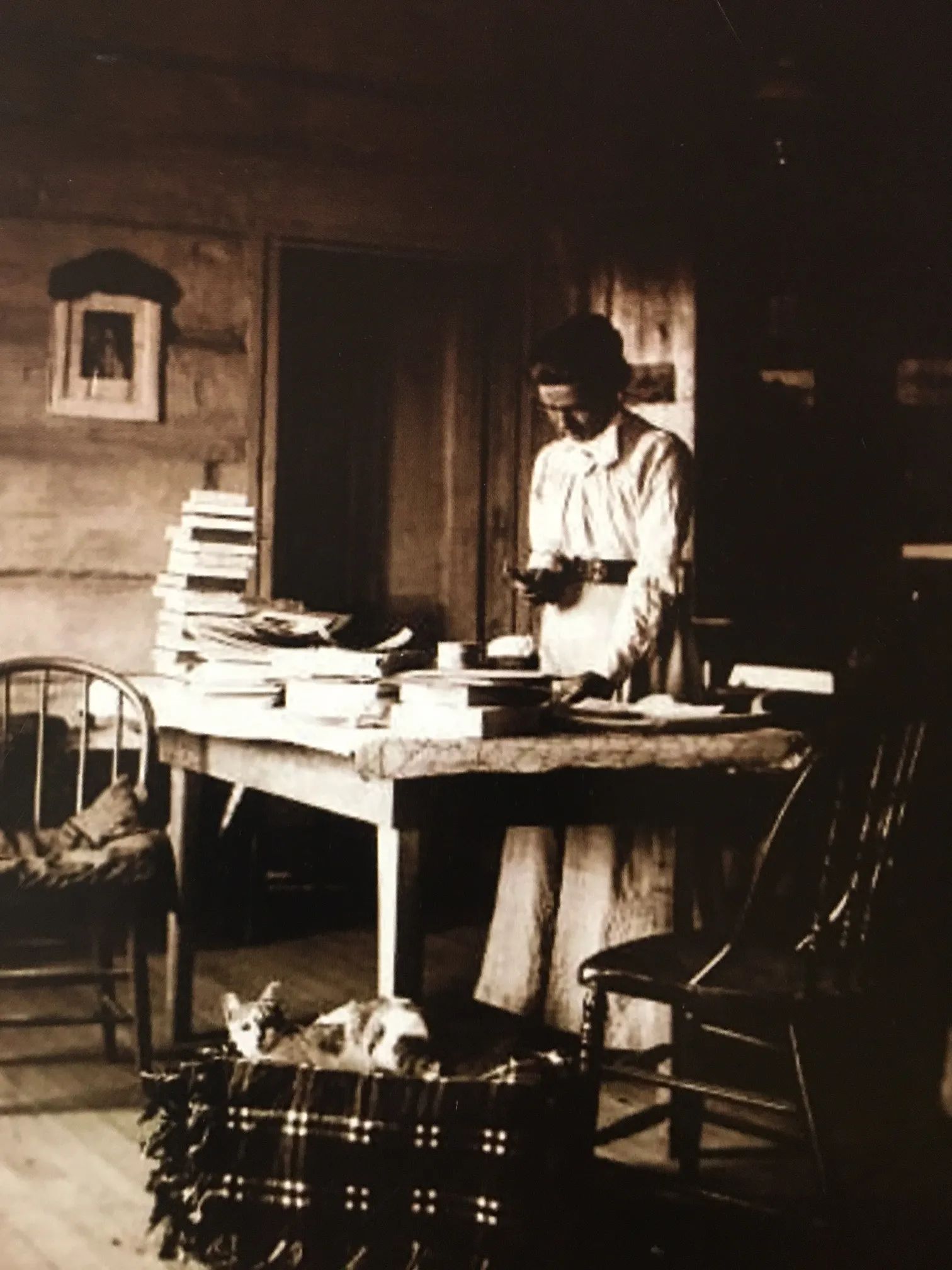 2008 MONTANA COWBOY HALL OF FAME INDUCTEE
1860 – 1920 LEGACY AWARD DISTRICT 2
Evelyn Cameron (1868-1928)
Evelyn Jephson Flower was born August 26, 1868, to Elizabeth Jephson Flower and Philip William Flower at Furze Down Park, the Flowers' estate south of London. Philip was a successful East India merchant, very wealthy and in high social standing. Evelyn grew up living a very privileged life. Even with 15 servants and numerous maids and nannies to care for the family, she herself longed for a more adventurous and freer lifestyle.
Ewen Somerled Cameron, 14 years Evelyn's senior, was an eccentric Scottish aristocrat, impoverished and occupied with studying birds. Though her family did not approve, at age 21 Evelyn married Ewen in Scotland in 1889. Upon hearing rave reviews of her brother Percy's hunting expedition to the badlands of Eastern Montana, Evelyn and Ewen longed to see it for themselves. Accompanied by an English cook and one of General George Custer's scouts as a guide, the couple hunted and camped as they spent their honeymoon in the Badlands of Montana. Taken with the beauty of the terrain and new adventure, Ewen and Evelyn returned to Montana in 1893.
Evelyn was beneficiary of a substantial trust fund from her father and this would enable them to start a new life in rugged lands of Eastern Montana. They purchased a ranch, which they named the EVE Ranch, after the first letters of Evelyn's name. Their initial plan was to raise polo ponies to sell to wealthy European sportsmen. When this plan ultimately failed, they were forced to turn to other means to finance their ranch. Meanwhile, Ewen was in ill health and did not assist Evelyn with chores. He studied birds and worked on books while Evelyn took in boarders, raised a huge garden for selling produce, and purchased her first camera. Thus, began her photography career.
For the rest of her life Evelyn carried her nine-pound camera, tripod, and glass plate negatives horseback to record all aspects of frontier life. She spent many hours traveling to picnics, weddings, brandings, sheep shearing's and church gatherings. When not taking pictures of people and events, Evelyn was busy photographing landscapes and wildlife. Not having the luxury of a telephoto lens, Evelyn acquired a special ability to get within a few feet of wild animals. Many photographs of birds and wildlife required hours of patience to capture the perfect image. As with her landscape photos, it is apparent that precise planning and preparation were key ingredients as she captured a collection of magnificent scenes.
All the while she spent capturing the essence of our frontier history with her photography, Evelyn still cared for the ranch, Ewen, and completed daily household chores. In her journals she proclaimed time and again that she loved the ruggedness of frontier living and enjoyed the physical labor.
As word traveled of Evelyn's marvelous photography, many families requested a variety of portraits - including those of family, children, and ranch workers. Cowboys, sheepmen, railroad men, and hunters alike were delighted to have a portrait to send to folks back east.
After Ewen died in 1915, Evelyn ran the ranch alone and was content with her life. When she died in 1928, her dear friend, Janet Williams inherited the EVE Ranch, along with all of Evelyn's photograph negatives, diaries, original prints and other belongings. Evelyn's lifetime achievements were stored away in Janet's basement for fifty years.
In 1978, award-winning author and scholar, Donna M. Lucey, in search of photographs to illustrate a history of women pioneers in the West, came upon this treasure of frontier history. With the story of Evelyn's life chronicled in "Photographing Montana 1894-1928: The Life and Work of Evelyn Cameron," she is remembered as a frontier marvel. Today the Evelyn Cameron Gallery in Terry, Montana, displays many of her original photographs.