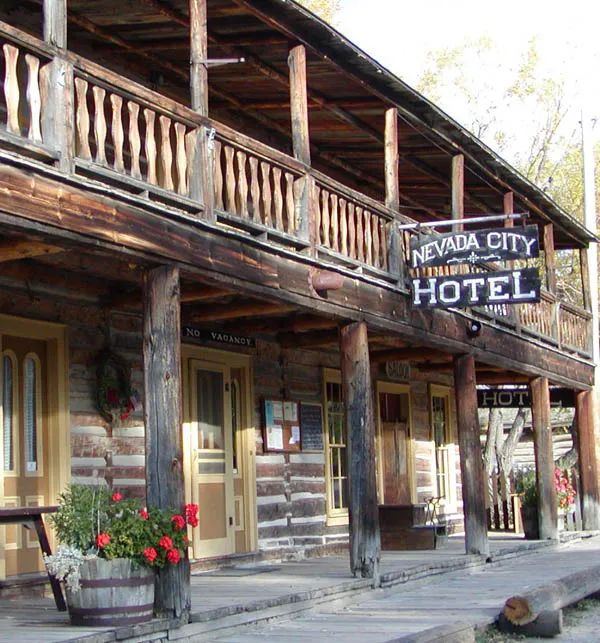 2008 MONTANA COWBOY HALL OF FAME INDUCTEE
1860 – 1920 LEGACY AWARD DISTRICT 10
Nevada City Hotel (Est. 1863)
Virginia City, Montana is living history, a gold mining town well-preserved in much of its original glory. The original capitol of Montana Territory in 1865, today the tourist attraction in southeast Montana is home to 130 residents. In 1961, a portion of the town was designated a National Historic Landmark. Though the refurbished attraction is far from a ghost town today, one can just imagine the characters that roamed Main Street more than 100 years ago. Today visitors walk the same boardwalks that desperate vigilantes, fending off road agents, once patrolled. Guests are transported to a time when rowdy miners mingled in saloons and restaurants with women of negotiable affection.
Just one a half miles from Virginia City, its sister Nevada City is a modern attraction as well, featuring 14 historic buildings original to the site plus a collection of more than 100 other historic buildings saved from locations all over Montana. The town provides a great backdrop for Living History weekends through the summer months.
Of all the buildings that gold miners once filled in Virginia City and Nevada City, the Montana Cowboy Hall of Fame has chosen to induct the Nevada City Hotel as representative of that short-lived Victorian era in Montana. The following newspaper clipping, with the headline "New Building Graces Nevada City Hotel," demonstrates:
"The Nevada City Hotel, Nevada City, Montana Territory, located one mile west of Virginia City, and a stage station, recently added a new addition.
"A double-decker outhouse, made from hand-hewn planks, graces the rear of the hotel building. A ramp leading from the second story doorway guides the lady privy user safely over the high-rise distance to the upper door, and there is a stairway leading to the street as an extra exit from the back side of the hotel.
"No longer will the ladies worry about their dainty leather shoes and flounced dress hems getting dirty from the muddy street behind the hotel in inclement weather. Night visits will be safer, also, as the ladies need not pass through the saloon located on the first floor. The gentlemen frequenting the bar in the hotel will use the street level entrance to the outhouse.
"Even without the new outhouse, the stage station serves its guests in high quality fashion. In the lobby guests will find a ladies' sitting parlor separate from the men's saloon, both areas helpful to pass the time while waiting for the next stage. For those needing an overnight stop, the hotel offers second story rooms, and a restaurant is next door.
"The proprietors of the hotel are proud of this new addition. They think their double-decker deluxe outhouse is the only one in the territory at the present time."