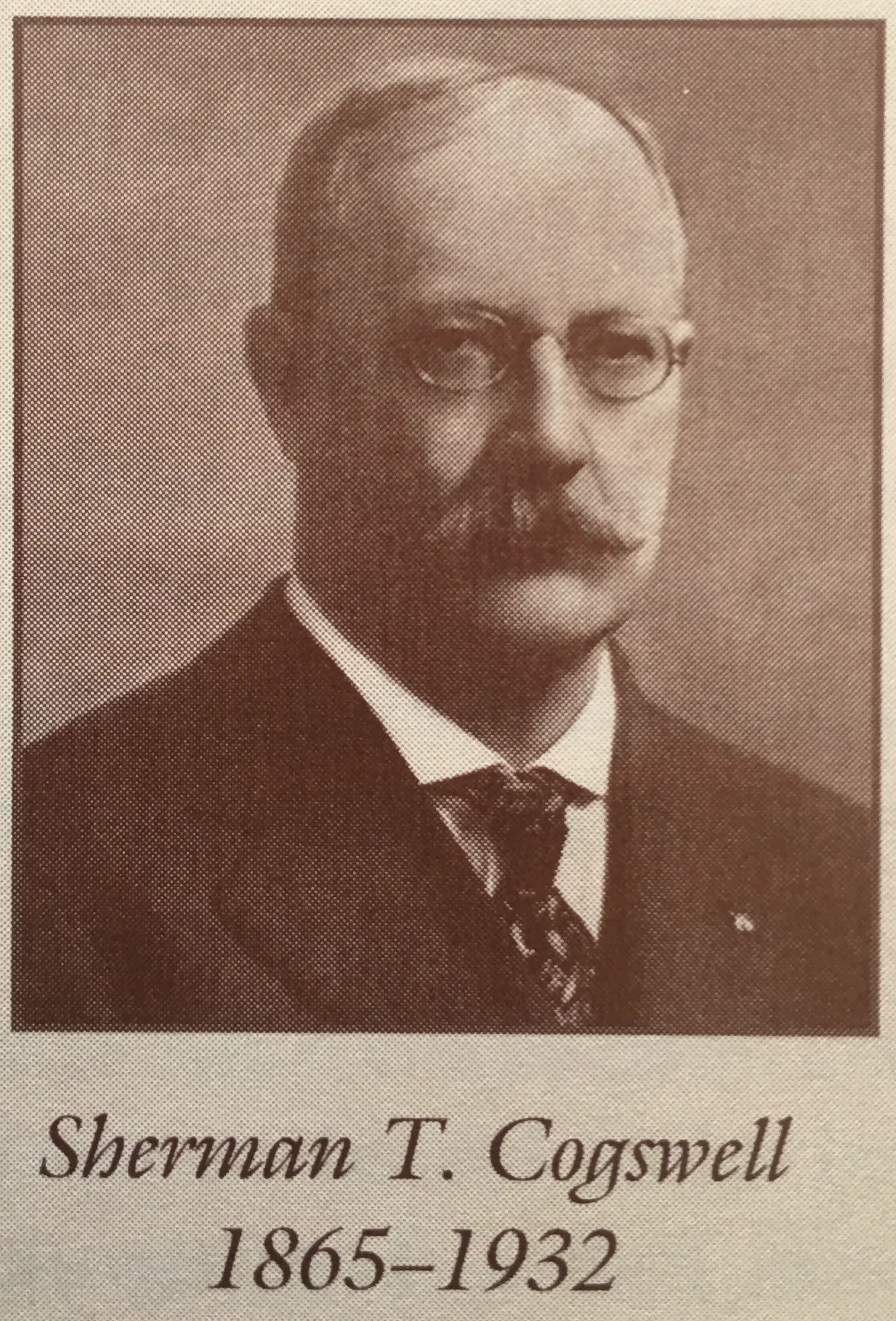 2008 MONTANA COWBOY HALL OF FAME INDUCTEE
1860 – 1920 LEGACY AWARD DISTRICT 1
Sherman T. Cogswell (1865-1932)
Sherman T. Cogswell arrived in Wolf Point, Montana, in 1885, a pioneer of a different type than most early day settlers. A dignified, quiet and discreet peacemaker, noted to be able to deal with all sorts of characters, Mr. Cogswell lived the changing West.
Through long years of close attention to business, Cogswell accumulated a modest fortune and as the town of Wolf Point grew and the country developed, he was generous in his investments and contributions to community enterprises.
Cogswell was born near Adrian, Michigan, January 24, 1865, to Richmond S. and Lydia (Stretch) Cogswell, both natives of Genesee, New York. At about the age of 20 he accepted an invitation from Major Burton Parker - who was an Indian agent at Poplar, Montana - to come west and take charge of an Indian school in Wolf Point.
Mr. Cogswell arrived to succeed Mr. Massey at the Indian school, which was established by the Presbyterian Indian Mission and currently guided by the government. The school was located in the end of one of the log stables belonging to the agency.
Cogswell remained at his assignment as teacher for less than a year, for in 1886 he was employed at the TC Power trading post as a clerk. The business was later sold to WD Shaw, and another trading post operated under the name of HM Cosier & Company was built in Poplar. Cogswell then worked there until returning to Wolf Point in 1887, when he purchased the Wolf Point Trading Post.
Cogswell took out a license as an Indian trader and renewed it through the years. According to history, he was the only licensed trader in this part of Montana. In 1886, he was appointed as postmaster by General Vilas. He served in that capacity until 1915.
As Wolf Point advanced, Cogswell took an active interest and was involved in several enterprises. He established an implement business in 1913, and was instrumental in the building of the Sherman Hotel named in his honor. In the same year he was active in the building of the First State Bank and was president of this institution at the time of his death. Cogswell held stock in several other Wolf Point businesses.
Cogswell was active in the Masonic Lodge and was a member of the Algerian Temple of the Mytic Shrine at Helena, becoming a member in 1904. He was also a member and trustee of the Wolf Point Presbyterian Church.
In 1932, Cogswell's longtime friend JB Randall accompanied him to Great Falls, where he was hospitalized at the Deaconess Hospital. He died there, at the age of 67, of diabetes, a disease that he had suffered for years.
Sherman T. Cogswell, respected by many, was considered the dean of Wolf Point pioneers and held lifelong friendship with many Indians and ranchers of the area.